September 25th: Later... Live... Tonight
Later... with Jools Holland returns for series 53, with the now-regular live show on Tuesdays at 10.00pm and the full-length show the following Saturday at 11.00pm.

September 24th: Tonight on Radio 2
The new series of the Jools Holland Radio 2 Show continues at 9.00pm. Tonight's guest is Clare Bowen.

September 17th: Music Extra – On the Road with Jools Holland (BBC World Service)
In this series of four weekly programmes, Jools Holland travels through the USA in search of the roots of jazz, blues, soul and rock 'n' roll. In each episode he visits a historically significant building in a different city and talks to fellow musicians, historians and other interested parties to build up a picture of how a particular music has developed and to explore the communities that grow around that today.

The programmes go out at 2.06pm local time wherever you are in the world, and then repeat the day after at 8.06pm local time except for East and Southern Africa or West and Central Africa, where it goes out at 22.06pm local time.

In the first episode Jools is in New York and visits Louis Armstrong's house. It is available for playback here.

September 3rd: BBC Two's 'Later... with Jools Holland' is back
The new season will kick off on Tuesday 25th September.

August 17th: Jools Holland hosts the Boisdale Music Awards 2018
On Wednesday 12th September Jools Holland will take to the stage at Boisdale of Canary Wharf to present the third annual Boisdale Music Awards. For more information, please click here.

August 16th: Jools Holland curates the third Krug Encounters – TRACKS ON TRACKS
The House of KRUG celebrate the spirit of its uniquely lyrical approach to champagne creation through its annual experience, KRUG Encounters. This August, Jools Holland has collaborated with Krug Encounters to create Tracks on Tracks, an unforgettable day of incredible music, gastronomic delights and Krug champagne.

On Friday 31st August, KRUG Encounters – Tracks on Tracks promises to be an exciting and original experience. Guests will travel on a private luxury train across the English countryside before stopping at three private platforms for a series of exclusive musical performances. Each act has been selected by Jools Holland as part of a curated musical journey amplified by the culinary expression of KRUG Champagnes. KRUG lovers will also savour the recently launched KRUG Grande Cuvée 166th ème Edition.

"I am so delighted Krug have asked me to be part of its next Encounters, hosted on a train. Firstly, I am great fan of Krug which is without question the most delicious of all champagnes. I particularly admire the way the same family have evolved and developed the vineyard over the last six generations. They treat the growing of grapes and the creation of champagne with the sensibility of musical art. Secondly, I am a self-confessed train enthusiast. And thirdly, I admired so much what Mick Jones of the Clash and Francis Mallmann have curated over the last two years. So I am thrilled to have this wonderful opportunity for both the 'brief' encounter on a train, and to visit the legendary Krug château in Reims." – Jools Holland

For more information, please click here.

July 17th: Jools and the iPod Pharmacy




I'm supporting the @ChilternMusic iPod Pharmacy #ipodpharmacy @jazzfm @yamahauk

Click here for more information.

June 5th: The Club by Jools
Jools Holland has teamed up with Saga Cruises to become the face and voice of 'The Club by Jools' restaurant and bar on the company's first ever new-build cruise ship, Spirit of Discovery.

The partnership will bring Jools' love of live music to the sophisticated restaurant and bar, which has been inspired by the great music lounges of the 1950s. 'The Club by Jools' will be the place to enjoy live music, gourmet food and cocktails in the evenings, with resident and guest musicians entertaining until late.

"I'm delighted that Saga is dedicating a space on the new ship for live music which is something that is very close to my heart. There is nothing better than listening to live music in a small, intimate setting where you can really connect with the artists and their music. Food and music are two of my greatest passions and it's great that Saga are combining the two" – Jools Holland.

This exclusive partnership will see Jools Holland perform a number of live gigs onboard Spirit of Discovery, with the first departure dates in 2019 already confirmed as 23rd July for A Channel Island Hop cruise, 3rd August to visit Gourmet Spain, and 17th August to go off the beaten track in the Gulf of Bothnia on the new cruise ship's Natural Scandinavia cruise.

"Our decision to bring two new boutique cruise ships to the market by 2020 will be truly transformational for us as a business. We want the on-board entertainment to reflect this and we are delighted to be able to announce Jools Holland as our first ever endorsed on-board venue 'The Club by Jools'. I have grown up watching 'Later... with Jools Holland' and many of our customers have too. His love of eclectic music really does transcend the generations and we will use this inspiration to bring something genuinely new and different to our steakhouse and late night bar on the ship" – Nigel Blanks, COO of Saga Cruises.

May 3rd: Classic BRIT Nominations
Jools Holland and José Feliciano are proud to announce they have received two nominations from the Classic BRIT Awards 2018: 'Best Group of the Year' and 'Classic FM Best Album of the Year' for As You See Me Now. The winner of the latter category will be decided by Classic FM listeners.

The Classic BRITs takes place at the Royal Albert Hall on Wednesday 13th June and will be hosted by Alexander Armstrong and Myleene Klass. The event will be screened on ITV. The Classic BRIT Awards has been revived after five years with a new approach that will celebrate the growing appeal of classical and music from film, television, theatre and games.

For more information and full list of nominees, please click here or here.

April 18th: Jools Holland boards #Platform88 and plays at Canary Wharf Tube
Jools Holland launches today the second #Platform88 piano as part of the partnership between Yamaha and Transport for London (TfL) to bring more music to Tube customers. He delivered a solo piano performance at Canary Wharf Tube station, leaving surprised commuters delighted and inspired. He then autographed the piano and wrote a special message on it for future pianists.

The two-year #Platform88 project, which takes its name from the number of keys on a piano, provides opportunities for anyone to play the instruments and entertain fellow passengers. During the next two years, the pianos will 'commute' around the TfL network, giving millions of passengers the platform to showcase their musical talents.

A champion of new musical talent, Jools jumped at the chance to have the second #Platform88 named after him. He said: "I'm thrilled to be a part of #Platform88 and I'm sure this beautiful instrument will provide much enjoyment for players and audiences alike. It's amazing how many people can play the piano well and I'd encourage everyone to either have a play or just stop and listen for a while. Who knows who may spot you!"

Currently residing at Tottenham Court Road Tube station, the first #Platform88 piano was launched in November by multi-instrumentalist, composer and producer, Tokio Myers. It's now enjoyed by thousands of travellers every day, and plans are in preparation for a third piano to be placed on the Tube network. At the end of the programme the pianos will be donated to charity. The Jools Holland piano will go to , for whom Jools is a Patron. The charity aims to ensure that everyone has the opportunity to learn to play an instrument.

London Underground's Managing Director, Mark Wild, said: "Music helps to create moments of surprise and delight for our customers when travelling on the Tube. We've seen the positive impacts of our busking programme and classical music on stations, and we're excited to provide this opportunity for our customers to bring their musical talents to light".

Yamaha's Charles Bozon said: "Yamaha is all about enriching people through music making, and we are thrilled that these pianos are providing entertainment and inspiration to thousands. We've already received hundreds of stories and pictures of people enjoying the instrument at Tottenham Court Road Tube station and now with the addition of Jools' piano at Canary Wharf Tube station we hope to unite even more passengers through music".

Watch Jools Holland at Canary Wharf station here.

March 20th: Newcastle International Film Festival 2018 – March 29th to April 1st
The Newcastle International Film Festival is a new four-day event taking place across venues throughout the historic British city of Newcastle-upon-Tyne between March 29th and April 1st 2018. The inaugural Newcastle Film Festival will be a truly international celebration of film, showcasing films from across the World, including several World Premieres, Classics featuring cast and crew, and new films from all genres of movies.

For full programme details, please click here. The festival will host 40 features, 140 shorts, including works by filmmakers from the North East. There will also be workshops, Q&A sessions and events across the city of Newcastle.

Amongst the events, Grammy Award-winning producer, director and local hero Geoff Wonfor is joined "In Conversation" by Jools Holland at the Mining Institute on Thursday 29th March from 5.00pm to 7.00pm BST. For tickets to this and the other events, please click here.

January 31st: Jools Holland in New York
Whilst in New York for the shows at the Blue Note, Jools, Ruby and Mabel popped into The Wendy Williams Show. Click here to watch.

January 31st: Jools Holland in New York
Whilst in New York for the shows at the Blue Note, Jools, Ruby and Mabel popped into The Wendy Williams Show. Click here to watch.

January 30th: Autumn/Winter Tour 2018 – Dates


Above: Jools Holland and Marc Almond by Andre Csillag.


Jools Holland and his Rhythm & Blues Orchestra are announcing their annual musical excursion around the UK and Ireland for 2018. Tickets go on general sale on Friday 2nd February at 10.00am and can be bought from the venues' box offices (for details, click here), Ticketmaster Tel: 0844 844 0444, See Tickets, and Ticketline. There will also be UK venue pre-sales on Wednesday 31st January and a Ticketmaster pre-sale on Thursday 1st February, with both of these pre-sales starting at 10.00am.

For more information on the Irish concerts, please click here.

Marc Almond will be accompanying Jools for the 2018 Autumn/Winter UK tour as a special guest, with the exception of Saturday 1st December at the Royal Albert Hall where Chris Difford and Pauline Black & Arthur 'Gaps' Hendrickson of The Selecter will join Jools and the Rhythm & Blues Orchestra on stage instead.

In his 36-year career, Marc has sold over 30 million records worldwide with his list of hit songs including Say Hello, Wave Goodbye, Touch and, of course, Tainted Love. Marc has also collaborated with the likes of Gene Pitney, Tony Visconti, and Burt Bacharach, as well as Jools who Marc previously toured with in 2014. He was awarded an OBE this year for his services to arts and culture.

January 23rd: Jools talks Blues, Boogie-Woogie and Blue Note
In preparation for his U.S. shows, Jools Holland chats to Jon Regen of Keyboard Magazine (USA). To read the full interview, click here.

January 18th: Jools at the Blue Note
Jools chats to WBAB Radio in New York about his upcoming dates at the Blue Note. For more information and tickets, click here.

January 16th: European Border Breakers Awards 2018
Jools Holland will be hosting the 15th EBBA ceremony, which takes place tomorrow – Wednesday 17th January – in Groningen, Netherlands. The event will be recorded and broadcast on public TV stations throughout Europe and can be seen live from 7.15pm (CET) on the EBBA Website, here.

The European music prize, dedicated to up-and-coming acts, this year goes to Alice Merton (Germany), Alma (Finland), Blanche (Belgium), Kristian Kostov (Bulgaria), Off Bloom (Denmark), Salvador Sobral (Portugal), Sigrid (Norway), Skott (Sweden), The Blaze (France), and Youngr (UK), who will all feature in the show.

In addition, the winner of the Public Choice Award will be revealed. This award will be presented to the act that has received the most (online) votes from the general public.

ABOUT THE EBBA
Every year, 10 European artists receive an EBBA to recognise their success in countries other than their own. This success is measured by: airplay; sales; live performances in Europe; and position in the European Border Breakers Charts.

The EBBA is an EU Prize, organised by Eurosonic Noorderslag in partnership with the European Commission (Creative Europe) and the European Broadcasting Union, with support from Buma Cultuur, the Dutch Ministry of Education, Culture and Science, Province of Groningen, the City of Groningen, and Music Week. For more information, click here.

January 9th: Eric Clapton – Special UK Screening of Life in 12 Bars
Jools Holland will host a rare Q&A with Eric Clapton and Academy Award-winning director Lili Fini Zanuck, following the UK and Irish premiere of ERIC CLAPTON: LIFE IN 12 BARS, a moving, revealing and surprising film about one of the greatest artists of the modern era.

This special event will be broadcast LIVE via satellite from the BFI Southbank to over 250 cinemas across the UK and Ireland on Wednesday 10th January 2018 from 7.00pm. To find the nearest cinema and book tickets visit claptontickets.film.

The film will be released in cinemas in the UK and Ireland on Friday 12th January (CERT: 15; RUNNING TIME: 134 mins).

RADIO & TV
Later... with Jools Holland (25/09/18)
Radio 2 Show (24/09/18)
Radio 2 Show (17/09/18)
Keyboard Magazine (USA) (22/01/18)
WDHA Radio (14/01/18)
WBAB Radio (13/01/18)
Radio 2 Piano Room (12/12/17)
Glastonbury Festival (24/06/17)

PRESS
The Telegraph (10/08/18)
Express (08/08/18)
LincolnshireLive (08/07/18)
Eastern Daily Press (28/05/18)
Relix (05/02/18)
BrooklynVegan (05/02/18)
Page Six (03/02/18)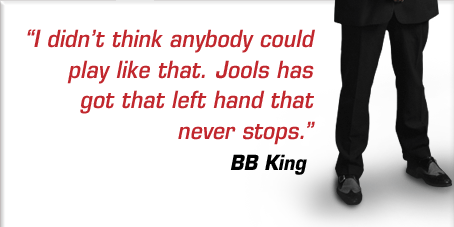 14 tracks featuring Jools and José singing, individually and together, backed up by their unique boogie-woogie piano and Latin Jazz guitar stylings.

The album includes versions of songs from a wide range of artists such as Stevie Wonder (Treat Myself), Lead Belly (Midnight Special) and Percy Mayfield's timeless soul classic, Hit The Road Jack. Also included are international hits from José Feliciano including Let's Find Each Other Tonight and One More Drink. Many of the tracks on the album feature Jools' renowned Rhythm & Blues Orchestra, who feature large on the completely new ska makeover of José's festive favourite Feliz Navidad.

Currently to be heard on radio is the title track As You See Me Now, written by Jools himself and sung by José, while other highlights include the Django Reinhardt-influenced Honeysuckle Rose and a duet with Rita Wilson called You're So Cold, written by Rita and Jools while they were in the Antarctic last year.



Extracts of songs on the album can be heard below.


GDPR Statement | Copyright © 1999- Jools Holland. All rights reserved.