March 30th: Learn Boogie-Woogie Piano (Lesson One)
February 7th: Autumn/Winter Tour Now On Sale


For tour dates and tickets, click here.

February 4th: Autumn/Winter Tour 2020


Jools Holland and his celebrated Rhythm & Blues Orchestra are announcing their much-loved annual tour around the UK with Ruby Turner and her breath-taking gospel, soul, blues vocals, as well as Louise Marshall, whose mellifluous voice illuminates all she sings.

Also on tour is original Squeeze member and powerhouse Gilson Lavis on drums.



The tour will feature some really special guests: music legend Leo Sayer (on all dates but Ireland); original Squeeze chum Chris Difford (22nd October to 28th November, and 20th December); and, for three exclusive shows only, Ali Campbell and Astro from UB40 (7th November in Guildford and 13th & 14th November in London).

Tickets go on general sale this Friday, 7th February at 10.00am via Ticketmaster, See Tickets, Ticketline, and Stargreen, as well as the direct venue websites and are priced from £29.50 (+ booking fee), except the Royal Albert Hall concerts with tickets priced from £19.75 (+ booking fee) upwards. For dates and special guests details please go to www.joolsholland.com/tourdates.htm.

With a tremendous collection of Jools tunes and his styling of ska, boogie woogie and blues, this UK tour promises to be an extraordinary and unforgettable night out that will have audiences weeping and on their feet!

January 16th: European Club Tour 2020




Jools is returning to some of the most iconic European Jazz clubs, entertaining audiences on piano, with R&B queen Ruby Turner, the soulful Louise Marshall on vocals, and George Latham on drums.

For the core part of this intimate show they will be joined onstage by a very special guest and long-term collaborator: KT Tunstall. The award-winning singer-songwriter has sold millions of records and boasts an impressive catalogue of hit singles including Suddenly I See and Black Horse And The Cherry Tree.

As well as having appeared on Jools' music BBC TV shows Later... with Jools Holland and Jools' Annual Hootenanny, KT has toured with Jools and his orchestra in the past and features on two of their recordings: Darkness On The Face Of The Earth and Night And Day.

For tour dates and tickets, click here.

October 10th: Jools Holland & Ruby Turner 'Come On In' – the new single




Jools and Ruby proudly announce the release of their new collaboration and brand-new single Come On In, which is available for download on all major platforms here. Recorded at Jools' studio, it also features the exuberant Rhythm & Blues Orchestra.

RADIO & TV
Radio 2 Show
Later... with Jools Holland

PRESS
The Argus (16/12/19)
Daily Echo (15/12/19)
Shropshire Star (30/11/19)
The News (Show Review; 25/11/19)
The News (25/11/19)
Telegraph & Argus (21/11/19)
NottinghamshireLive (20/11/19)
Irish Examiner (18/10/19)
Music Week (14/10/19)
Mail Online (12/10/19)
Wiltshire Times (08/10/19)
Express & Star (13/09/19)
Winsford Guardian (24/07/19)
Warrington Guardian (21/07/19)
The Upcoming (12/07/19)
Shropshire Star (02/07/19)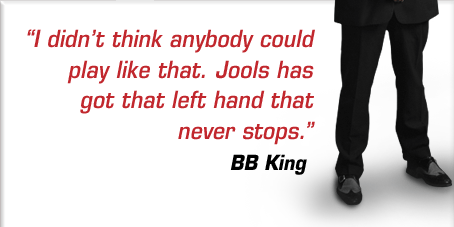 GDPR Statement | Copyright © 1999- Jools Holland. All rights reserved.